Tract Stewards
Protect | Acquisitions | Branford River Project | Property Management | Tract Stewards | Work Parties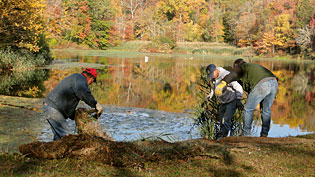 BLT Tract Stewards volunteer their time to help the BLT fulfill its responsibilities for the protection and maintenance of the land that it holds in an organized and ongoing way. Tract Stewards are the BLT's eyes and ears, ambassadors of vital importance. They are crucial in helping the BLT manage and protect the land entrusted to them for public enjoyment. A recently revised Handbook for Stewards defines and clarifies the responsibilities of the Tract Stewards and provides guidance for fulfilling those responsibilities. The three main areas of responsibility of the Tract Stewards are Legal Monitoring, Biological Monitoring, and Tract and Trail Maintenance. The Tract Stewards are asked to submit a brief annual report of the condition of their tract(s) addressing these three concerns. These reports assist the Property Management Committee in evaluating the condition of BLT properties and facilitate the planning of any actions that may be required to protect the land and to provide appropriate access to the public.
Legal Monitoring is necessary:
To ensure that the purposes of the donor, as recorded in a deed or contract, are being maintained.
To ensure that legal property rights and easements retained or acquired through donation, purchase or negotiation are not being violated.
To fulfill a moral obligation to ensure that properties are not being degraded.
Biological Monitoring provides an ongoing evaluation of the status of the ecological communities that are protected within the tract. This involves characterizing these communities (identifying the species of plants, trees, birds or animals that are present, and their distribution) and identifying any threats to the maintenance of the 'natural state' of the tract. Exactly what the 'natural state' is may vary from one tract to another, depending on the nature of the tract (i.e., salt marsh or forest), on whether the donor has specified that the tract be maintained for some specific use, such as agriculture or recreation, or if the management plan for a tract includes managing parts of the tract to maintain the presence of early succession-type habitats like fields or coverts.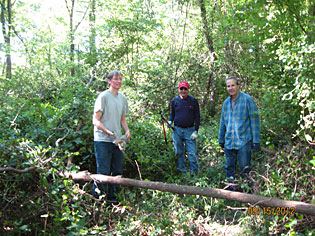 Tract and Trail Maintenance is much of the on-going work of the Tract Steward, including periodic cleanup of litter and pruning and otherwise maintaining any trails that are on the tract. Property located adjacent to frequently traveled roads or with trails that are used intensively may require frequent cleanup, perhaps as often as every two or three weeks. Minor trail maintenance (pruning, removal of protruding roots, etc.) should be done on an "as needed" basis, as determined in the spring and early fall. Trails should be wide enough so that people can walk them without being brushed by branches or foliage and the trail ahead is obvious. Any trail building or reconstruction and any vegetation control should be as specified in the management plan.