Osprey Program
Environmental Day Camp | Library Project | Links | Nature Explorer Program | Osprey Program
For many years the Branford Land Trust has been committed to the establishment and maintenance of a healthy osprey population in Branford. Given its extensive estuary marshes, many owned by BLT, Branford is an ideal summer breeding area for these magnificent fish hawks. There are two components of our efforts, creating and maintaining nesting sites in suitable environments, and offering educational programs on the life cycle of the osprey.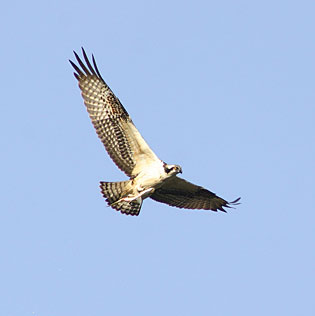 An active volunteer group builds and does annual maintenance on nesting platforms for osprey. There are currently about 30 BLT-maintained nesting platforms located in marshes throughout Branford. There are perhaps half a dozen additional privately maintained platforms. All platforms must conform to state DEEP construction and siting standards and permits must be obtained for new platforms. Installation and maintenance are done in the winter months when the birds are not in residence. In the spring and summer nests are monitored for utilization and fledge rate. The platform occupancy rate has been running at close to 90%.
The decline and resurgence of the osprey population throughout the Northeast is a tale with many lessons in the ways in which human activity can both harm and benefit wildlife populations. We bring this story to community and school groups with a video/power point presentation featuring many photographs of local osprey by several Branford photographers. We also have fixed displays and model nesting platforms.
To request a speaker or to volunteer for work with the Osprey Project, please call Jon Clark at (203) 488-1283 or by email.