PROTECT: Protecting Open Space
Protect | Acquisitions | Branford River Project | Property Management | Tract Stewards | Work Parties
For more than 45 years, the Branford Land Trust has acquired and protected more than 950 acres of priceless open space in Branford. The Land Trust also holds conservation easements on another 400 acres. In addition, we've worked with all of Branford to help acquire several publicly owned tracts including the Stony Creek Quarry Preserve, Beacon Hill, Saltonstall Mountain and the Queach Preserve.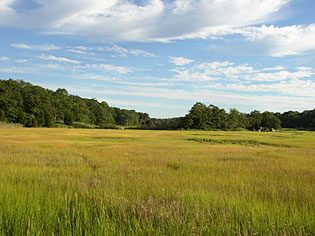 We protect diverse natural environments—tidal salt marshes at the shore, wetlands along the Branford River and its tributaries, upland forests and meadows, and even a few tiny islands in Long Island Sound. The many areas that are not too fragile for pedestrian access are available for walking, bird watching, cross country skiing or just enjoying a few quiet moments.
Maintaining the diversity of habitat for Branford's natural areas is at the heart of what we do. Our active osprey program monitors and maintains osprey platforms, we mow meadows to maintain increasingly rare grassland habitat, we've erected bluebird boxes and wood duck boxes, and helped establish the fishway over the Supply Pond dam, restoring access to breeding areas for alewives and other anadromous fish.
As we preserve what we can of Branford's last remaining open space, we build on our capacity to care for the natural areas that we protect for future generations. Our stewardship efforts include regular monitoring and maintenance of properties and trails as well as enhancing and maintaining infrastructure, such as boardwalks and dams.