Supply Pond Fishway
Protect | Acquisitions | Branford River Project | Property Management | Tract Stewards | Work Parties
In April 2006, the Supply Pond Fishway was opened for business – the business of getting alewives up and over the dam that created the Supply Ponds. The Branford Land Trust built the fishway with help and guidance from the DEP and eight other partners and funders. 2006 marked the first time in at least 100 years that alewives were able to swim in the ponds and to migrate even farther upstream along the Queach Brook, perhaps as far as Linsley Lake in North Branford.

Alewives in Branford generally like to run up Queach Brook and the fish ladder at night. This probably is an evolutionary trait that protects them from their many predators, including osprey, herons, and cormorants, all of which hunt by sight during the day. If you are lucky, however, you might be able to see several dozen fish schooling up at the base of the fishway in broad daylight, particularly during a high or rising tide in April.
Mature alewives are about 9 to 11 inches long and weigh less than one pound each. Look for their distinctive V-shaped tail. Their backs are a dull green and their bellies are silvery – an excellent camouflage pattern. From below, the silvery belly blends in with the sky; from above, the green back looks much like the water and the stream or ocean bed. They are mediocre swimmers and are not able to jump over obstacles such as log jams or even low beaver dams.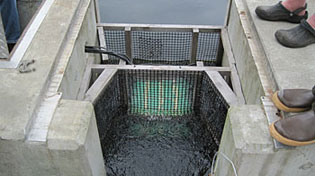 Thanks to a fish counter installed at the top of the fishway, we have an accurate count of the alewives that are migrating into the Supply Ponds: 3,113 in 2006, 1,250 in 2007, 2,632 in 2008, 3,477 in 2009. In 2010, we counted a record-breaking 40,000 alewives, which dropped back to 4,476 in 2011. But numbers have been in the decline since, and we are monitoring this situation closely.
Dr. David Post, a professor at Yale, maintains the counter. Dr. Post is one of the world's great experts on all things alewife-ish and we are lucky to have his excellent guidance.
Always open to the public, the fishway is located on Short Rocks Road, about 300 yards off of Mill Plain Road. Park on the street near the entrance (you will see a 3'x5' green sign on the right). Call Tom Cleveland at 203-981-9040 if you have any questions.
• See also: "Returning Home," by Jim Murtagh.