Branford River Project
Protect | Acquisitions | Branford River Project | Property Management | Tract Stewards | Work Parties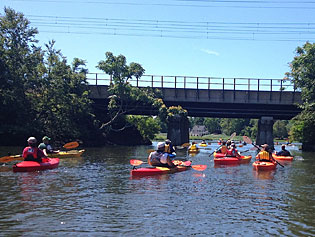 The Branford River Project was started in early 1995 as a joint effort of the Branford Land Trust and the Branford Rotary Club, and had the goals of understanding the status of the Branford River, promoting community awareness of each individual's role in preserving the health of the river, and developing and implementing projects designed to preserve and/or improve the quality of the river.
Some of the Branford River Project's founding members included Maria Storm, Frank Zemina and Barbara Kordiak, who initiated a number of projects throughout town, including the Supply Pond Fishway, the installation of "Branford River" signs on bridges throughout town, placement of "Don't Dump" warnings on storm drains, and water quality testing by Branford High School students in conjunction with the Department of Environmental Protection.
The largest and most important service started by BRP was the purchase, management and operation of a pump-out boat, primarily to service the Branford River, but also other parts of Branford. In 2013, the pump-out function received new management by Coastal Marine, with the service being monitored by the Pump-out Boat Committee.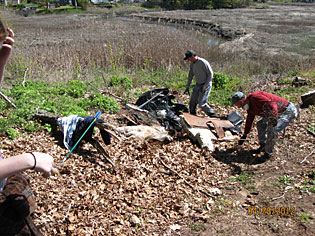 While the Branford River Project is not currently initiating or conducting projects, the Branford Land Trust still is very interested in the river, particularly the health of the marshes and other coastal areas that have formed along the river, since it is this buffer area between the water and solid land that is a fertile growing area for plants and animals. This land is also a critical buffer for occupied property when there are storms, as well as the gradual rise in the water table in Branford.
The Spring River Clean-Up and the annual Branford River Parade (hosted by the BLT Nature Explorer Program), are two popular events born out of the Branford River Project. Watch for details on our Calendar of Events.
Read More About: