February 26: Return of the Peregrine with Steve Broker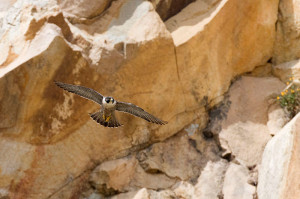 Join the Branford Land Trust for the first in its Winter/Spring Lecture Series, "Return of the Peregrine" with Steve Broker, to be held on Wednesday, February 26 at 7:00 p.m. at the Blackstone Memorial Library, 58 Main St, Branford, CT. The event is free and open to the public.
Prior to World War II, the Peregrine Falcon was a rare breeder in Connecticut and was uncommon to rare throughout the year. By the mid-1960s as a direct result of the widespread agricultural use of the organochlorine biocide DDT, peregrines were extirpated as breeding birds east of the Rocky Mountains. Three events since then have led to the reestablishment of this species throughout the eastern United States: the banning of the sale of DDT in the U. S. in 1972; the listing of the Peregrine Falcon on the U.S. Endangered Species Act of 1973; the reintroduction of captive peregrines to the East in the late 1960s, 1970s, and 1980s. The highly successful recovery program has resulted in the removal of the peregrine from the U.S. ESA in 1999, while the species remains on Connecticut's list of endangered species.
Steve discusses the five known nest sites of peregrines in Connecticut during the period 1850-1948. He then summarizes his ongoing studies of the peregrines that have been nesting at West Rock Ridge State Park in Woodbridge since his discovery of a pair of falcons there in 1999. Peregrine life history strategies are the focus of these studies: territoriality, behavior, vocalizations, foraging, mating, nest site selection and preparation, egg-laying, care of nestlings, nest success, and the changing local population of adults. In the 2000 breeding season, the West Rock peregrines produced the first egg to be laid on a Connecticut cliff in 60 years.
Steve Broker has worked in science education for the past 45 years. He taught high school science in the New Haven Public Schools for 23 years. He participated in the Yale-New Haven Teachers Institute for many years as a fellow, representative, and a member of the Yale National Initiative. His university teaching as adjunct lecturer included courses in ecology and forest & wetland ecology, biology, and teaching of science. Steve is secretary of the Connecticut Ornithological Association and a past-president of the New Haven Bird Club. His field studies focus on breeding Peregrine Falcons and Common Ravens at West Rock, marsh birds on Outer Cape Cod, and participation in recent and past breeding bird atlases in Massachusetts and Connecticut.
Watch for these upcoming Winter/Spring Lectures from the Branford Land Trust: "Bees, Bees, Bees" with Kimberly Stoner on March 26, and "How to Use the Sweet Spots of the Earth, the Sea and Sky to Your Best Advantage" with Mary O'Connor on April 23. For more information, please call Martha Rice at 203-314-7128, or visit www.branfordlandtrust.org.
Photo by Kevin Cole.