March 26: Lecture Series, Bees, Bees, Bees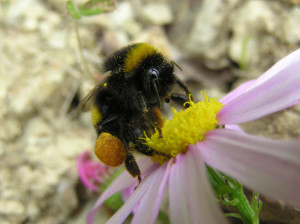 Join the Branford Land Trust for the second of its Winter/Spring Lecture Series, "Bees, Bees, Bees" with Kimberly Stoner, to be held on March 26 at 7:00 PM at the Blackstone Memorial Library, 58 Main St., Branford, CT. The event is free and open to the public.
Kim will talk about the importance of variety of bees as pollinators. Many people are not aware how much pollination, even of crop plants, is done by native bees, particularly bumble bees, and that the species diversity of bumble bees has decreased significantly in just the last 15 years.
Kimberly Stoner has been the vegetable entomologist at the CT Agricultural Station in New Haven since 1987. Her current research focuses on the pollination by bees—including measuring exposure of bees to pesticides, monitoring native bee species and studying pollination in pumpkins and squash. She conducted research on plant resistance to insects, alternatives to pesticides for managing insects, and organic farming. She served on the Board of Directors of the Northeast Organic Farming Association of CT from 1990-2010 and she was a founding member of the NOFA Organic Land Care Program and chair of the Organic Land Care Committee for eight years. She earned her B.S. in zoology from Duke University in 1979, and her Ph.D. in zoology from Cornell University in 1987.
Watch for the next Winter/Spring Lectures from the Branford Land Trust: "How to Use the Sweet Spots of the Earth, the Sea and Sky to Your Best Advantage" with Mary O'Connor on April 23. For more information, please call Martha Rice at 203-314-7128.