Nature Explorer Program
Environmental Day Camp | Library Project | Links | Nature Explorer Program | Osprey Program
In 2009 the Branford Land Trust started a new program to help Branford residents, both adults and children, learn more about the natural environment of our hometown. All together, there have been around eight programs scheduled each year, with roughly one program a month. And, each event is FREE and open to the public!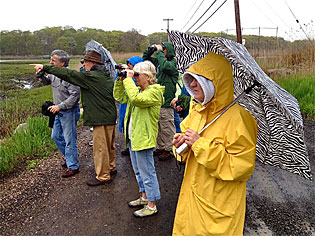 This program was inspired by the terrific response of Branfordites to activities at the BLT 40th Anniversary picnic held in 2008. Activities that day included a scavenger hunt, live animals, a display from the Peabody Museum of natural artifacts, and a walk around Young's Pond.
Most programs take place out-of-doors to familiarize people with some of the trails maintained by the Land Trust and the Town of Branford, and to learn about various aspects of nature found there, such as birds, trees, and other plants and animals. Other topics include how to identify animal tracks, read a compass and make sun dials on the summer solstice.
We have also had several events with live animals: one with birds of prey and another with reptiles and amphibians. People found it so exciting to see animals that live right here in Connecticut that we plan to have another event this year!
Included in the Nature Explorer program are also some of the Land Trust's traditional annual events, such as the fall Branford River Parade, where non-motorized boats go down the Branford River from the high school to Branford Point, the pre-Thanksgiving walk on the Van Wie property, which is the Land Trust's largest holding, and the New Year's Day walk.
Please be sure to check out the calendar on the BLT website to see what events are scheduled for the upcoming months!