Library Project
Environmental Day Camp | Library Project | Links | Nature Explorer Program | Osprey Program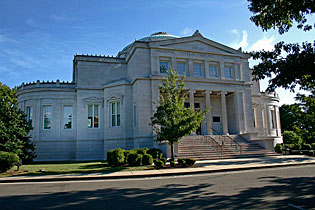 This Branford Land Trust Library Project committee was established in 1998 and has been providing books and other resources to Branford libraries each year. Over 250 books, CDs and DVDs have been given to the James Blackstone Memorial Library, Willoughby Wallace Library and the school libraries – Branford High, Walsh Intermediate and Murphy, Tisko and Sliney Elementary Schools. This has been possible though a small budget from the land trust and occasional gifts from land trust members.
Beginning in 1998, the first committee members established several objectives for the group. The goal is to purchase books about nature and the environment that relate to Branford's wildlife and surroundings. We want to help libraries replace dated guidebooks or add new ones as they come on the market. When possible, we consider books by local authors (Northeast US) when the topic fits the above criteria. This is done through a coordinated effort with the librarians.
As you spend time in your own yard or hike the trails or shoreline in Branford, we hope you will visit the libraries and check out books that will enhance your enjoyment of our lovely area. Don't forget to visit the children's department as well.
Click here to see an inventory of Library Project books