LEARN: Education & Community Outreach
Environmental Day Camp | Library Project | Links | Nature Explorer Program | Osprey Program
The Education and Outreach Committee seeks to further the mission of BLT by organizing environmental education programs for local schools and the community, as well as other events to promote environmental awareness in the community.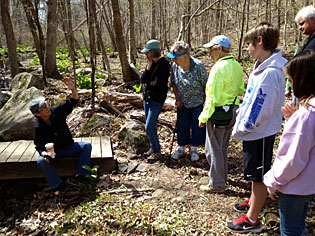 Our year begins with the popular Winter/Spring Lecture Series that presents a variety of topics by a diverse range of speakers. In recent years, we've hosted lectures on Branford's Supply Ponds, osprey, Connecticut coastal waterbirds, stone walls, an environmental history of Long Island Sound, local geology, and horseshoe crabs. Speakers have included Tom Andersen, Jonathan Clark, Robert Thorson, Patrick Comins, Jay Ague, and Mark Beekey. The Lecture Series is capped off each year with the Land Trust's annual meeting, held in May.
In June, the Branford Festival gives the Land Trust an opportunity to showcase its efforts to the more than 10,000 people who visit the Green each year for this popular event. Highlights include a map of Land Trust properties, a number of educational displays, and the popular touch tank and horseshoe crab display.
In August, the Environmental Day Camp provides children ages 5-9 with the chance to explore the natural wonders of Long Island Sound and associated habitats with tide pool and forest exploration, nature crafts and games, live birds, amphibians and reptiles, music, puppet shows, and more.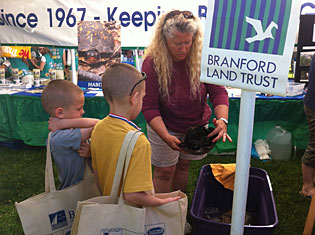 Additional efforts of the Education and Community Outreach Committee include the Nature Explorer Programs, a series of walks and other outdoor activities for adults and children to learn more about the natural environment; the Library Project, which selects and purchases books or other educational materials for donation to town and school libraries; the Osprey Committee, which works to promote the health and wellbeing of the local osprey population; and Project Limulus, university-sponsored research on the local horseshoe crab population.
• For upcoming events, visit our current Calendar of Events.