A Legacy of Stewardship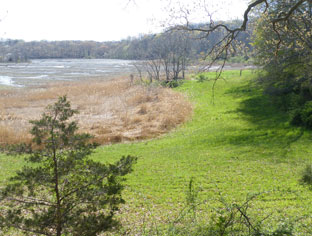 Branford's growing legacy of preserved woods, wetlands, fields and farms cleans our air and water, protects us from storm damage, provides wildlife with places to live, and gives our children natural areas to explore and enjoy.
In 2013, we were pleased to support the Town's purchase of the Kaczynski property. This 22-acre parcel includes a beautiful, rolling meadow rising from the salt marsh to a tree-lined ridge near the end of the small tidal creek on the Farm River just southeast of the protected Beacon Hill. With your help, and the support of the Friends of the Farm River Estuary, we raised $25,000 towards the purchase price, and added $15,000 to the Land Trust's Stewardship Endowment Fund, increasing its principal to $140,000. Our goal is to build the Fund to $1 million.
Moving forward, that Stewardship Fund will allow us to continue to maintain the more than 950 acres of open space that the Land Trust now owns, as well as future acquisitions. Maintenance includes boundary marking, trail clearing, mowing, removing dying, diseased or storm-damaged trees, controlling invasive plants, and removing litter. It also includes capital improvements, like the recently constructed dam on Van Wie pond, and the boardwalk on the Partnership tract.
Your generous support of the Land Trust makes it possible for our all-volunteer organization to preserve this legacy for future generations.